Understanding that our sewers are an essential component to hygienic conditions, Wessuc is dedicated to thorough inspections and cleaning of the sewer lines in a responsible manner.
Our team at Wessuc is specially trained to inspect sanitary and storm sewers, manholes, catch basins, tanks and more using CCTV, Push Cam, Flushing, and Smoke Testing. It's not something that just anyone can do.
We provide an inside look of stormwater and collection systems through a variety of services including mainline and lateral inspection, lateral launch, line locating, data management, line cleaning, manhole inspection, smoke testing, boating, and push cam inspections. This ensures your assets are assessed to prevent infrastructure failure and to schedule necessary maintenance.
From the proper personal protection equipment to the latest in inspection methods, our operators are all certified in NASSCO's Pipeline Assessment Certification Program (PACP), LACP, MACP, Confined Space Entry and Book 7. Our CCTV operators, flushing operators, and project manager are PACP Certified. They all know what to look for and more importantly, how to look for it in a safe and efficient manner.
Regular inspections will help prevent breakdowns, ensure maximum performance, and avoid emergency calls. It's the best way to protect your investment and optimize the lifetime of your systems.
Wessuc's fleet is equipped with 2 sewer flushing trucks, 2 CCTV inspection vans, and a push camera inspection unit.
---
PUSH CAM
Push cams are typically used inside small lines to inspect clogs and defects where a CCTV van can't fit. Push cams can provide access to remote areas, fit into smaller lines, and be used to inspect laterals from the home to the mainline. We can get visuals of dips in the lines (ponding), cracks, offset joints, and obstructions such as dirt, gravel, and debris. It is particularly effective in lateral inspections of newly built homes where it can inspect sewer lines from the basement to the main street line.
---
CCTV
CCTV (Closed Circuit Television) is a non-intrusive method of inspecting pipes and sewers without having to dig anything up to do it. Wessuc uses these remote controlled units to search for any signs of damage or blockage. Wessuc offers cleaning and CCTV of pipes ranging from 100 mm to 1350mm. Pipes larger than 1350mm can be cleaned and inspected by manual entry into the pipe. We can zoom in and provide a closeup look at the areas in question. On completion, you have a thorough visual and written report of the situation to help you plan your next steps.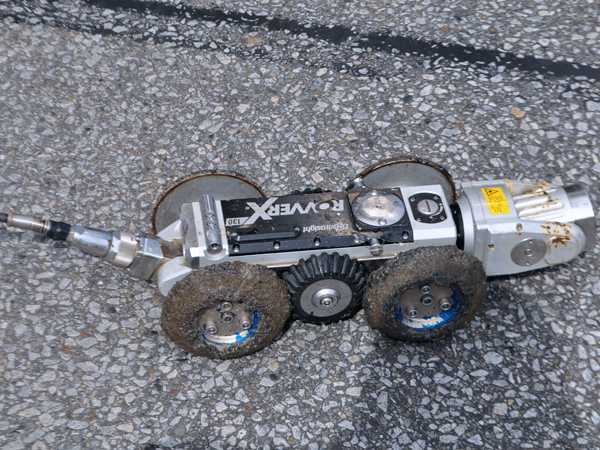 ---
SMOKE TESTING
Smoke testing is used to find leaks in the main sewer line and service. By forcing special, artificially produced, safe smoke into the system using a high pressure blower, we can locate breaks or leaks in the system by noting smoke that appears where it's not supposed to be. It's a quick and affordable method of checking lines to ensure proper operation.
---
FLUSHING
Wessuc's advanced flushing trucks provided high pressure cleaning and vacuuming of wastewater collection systems, storm water drainage systems, lift stations, pump stations, manholes, catch basins, and more. With over 800 feet of flushing hose, we can apply a range of water pressure into 100mm pipes and larger and use the appropriate flushing nozzle to flush out debris blockage. Then we air vacuum that debris out an into our 12 yard debris tank.
In addition to confined space training, our flushing crews are trained for a better understanding of pipe conditions.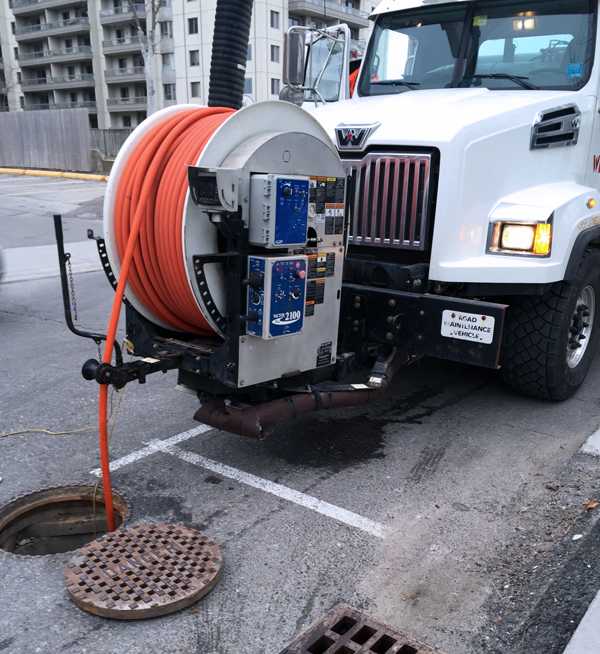 ---
SLUDGE JUDGE
At Wessuc, we can perform a sludge judge which judges the depth of sludge in a lagoon. We also send sludge samples to a lab for any necessary testing. Our judges map out a grid pattern on the lagoon, and take samples from each point. These samples are then combined for testing. Throughout the process the judges document on their map the depth of each sample. This type of inspection lets the lagoon owner know when to expect the need for a lagoon clean out, or any issues they may be having with the lagoon.