Since 2001 our focus has been on agricultrual beneficial use programs
More and more agricultural operations are turning to the use of biosolids and other soil amendments in place of commercial fertilizers. Biosolids provide essential nutrients such as nitrogen and phosphorus for healthier plant growth but they also contain micro nutrients that enhance the growth process and help increase crop yields. They also add organic matter, increase moisture retention, and reduce soil erosion. Biosolids continue to be safe to use as demontrated by scientific evidence by government scientists, health experts, and agronomists.
Understanding that our soils are an essential component to a sustainable future, Wessuc is dedicated to the beneficial use of organic residuals in an environmentally responsible manner. Wessuc handles over 400,000 m3 of organic waste per year for various municipal and industrial clients. Land application is done with the latest in spreading equipment, using tractors with a continuously variable transmission for accurate speed control and application rates.
Wessuc's team is equipped to evaluate your waste stream and obtain all approvals necessary to move each project forward. In addition to required approvals, we also provide haulage, conduct soil testing, and take manure samples. We really are a one-stop resource when it comes to land application.
---
FARM DATA MANAGEMENT
Farming today is more technologically and scientifically advanced than ever before. Wessuc continues to be a leader in their field by not only adapting to advanced methods but introducing them as well. In addition to providing our clients with GPS records of spreading in their fields, we enhance and contribute to their nutrient management (Ag and Non-Ag sources) and their soil sampling records.
Our farm data management tools include NMAN data input, updating, and setup. We also assist the tracking of field inputs, outputs, and nutrient needs which leads to improved timing of application. Call us today to learn more about how we can help your operation.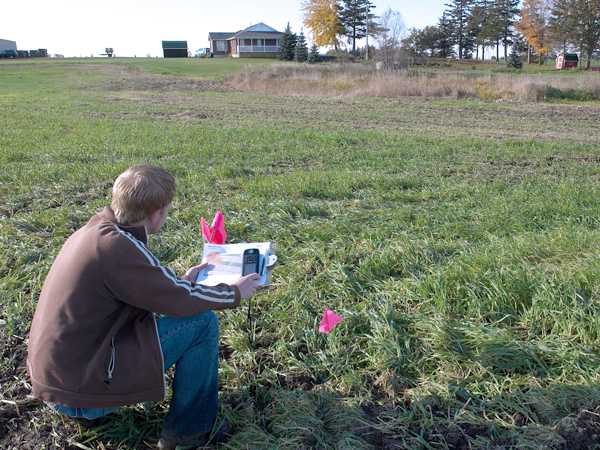 ---
APPROVALS
When using biosolids, you must adhere to government rules and regulations that are constantly evolving. We make it our business to keep on top of the latest requirements and will help you with everything from non agricultural source material (NASM) approvals to nutrient management plans, and nutrient management strategies.
We'll help you plan for the nutrients your crops need, reduce nutrient inputs, and provide soil sampling to determine nutrient requirements. At the end of it all, you'll have a plan that projects your farm's nutrient use for up to 5 years.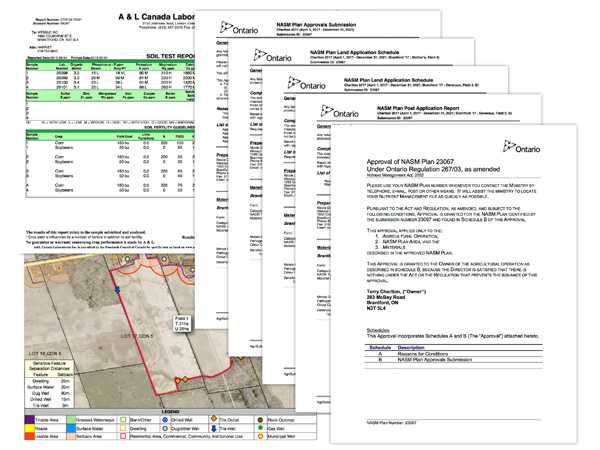 ---
HAULAGE
There are many situations where the haulage of waste is needed including the emptying of lagoons for inspection and repair, emergency situations such as flooding, force main break, or pumping station failure. We also provide haulage for new subdivisions waiting for sewage systems.
When flooding overwhelms the systems and equipment in place, Wessuc is called in to pump and haul out water and waste until the situation returns to normal conditions. For new subdivisions, we bring our trucks in on a continual basis to remove the sewage until permanent systems are operational.
At Wessuc, we haul bulk liquid and solids from virtually any site or location. Our large fleet of trucks and equipment are designed to maximize volumes and reduce back-and-forth traffic. With 6 inch discharge capability, 43-45 m3 tankers, and large dump trailers, we lead the way in safe, efficient, and environmentally responsible haulage of waste material.
---
SOIL TESTING
Soil sampling is a vital part of effective nutrient management in crop production. It is an evaluation tool to assess essential nutrient levels including Phosphorus, Potassium, organic matter, pH, Zinc, Manganese, Sulfur, Magnesium. Collecting this information helps determine the correct nutrient management programs and fertilizer blends for the best rate of return and to preserve the natural environment. We are equipped to provide a variety of soil sampling techniques and recommendations to fit your operation's needs.
---
MANURE SAMPLES
Manure is an excellent source of many essential plant nutrients and, with proper management, can meet nearly all crop nutrient requirements. Unlike fertilizer, the form of manure and its composition can vary widely causing either nutrient deficiencies resulting in reduced yield or nutrient surpluses that are susceptible to loss through runoff and leaching. Knowing the nutrient content of the manure being applied allows the operator to maximize the economic benefit of the nutrients in crop production, reducing costs, and reducing the potential for negative environmental impacts from excess nutrient application. We are equipped to provide a variety of manure sampling techniques and recommendations to fit your operation's needs.
---
MANURE APPLICATION
Planning, mixing, pumping, haulage and spreading services are available to help you get the most out of you manure nutrient resource. We have extensive experience with nutrient management plans and will provide all required documentation including GPS spreading data for your records. Field operators are OMAFRA trained and licensed to ensure nutrients are placed at the right time, right place, and right amount. Environmentally sensitive features of each field will be reviewed prior to application to ensure appropriate protection measures are in place. Our operators can move up to 1 million imperial gallons per day depending on the field location, material consistency, and site characteristics.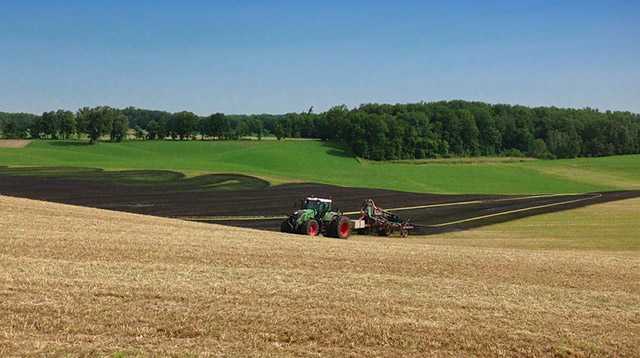 ---